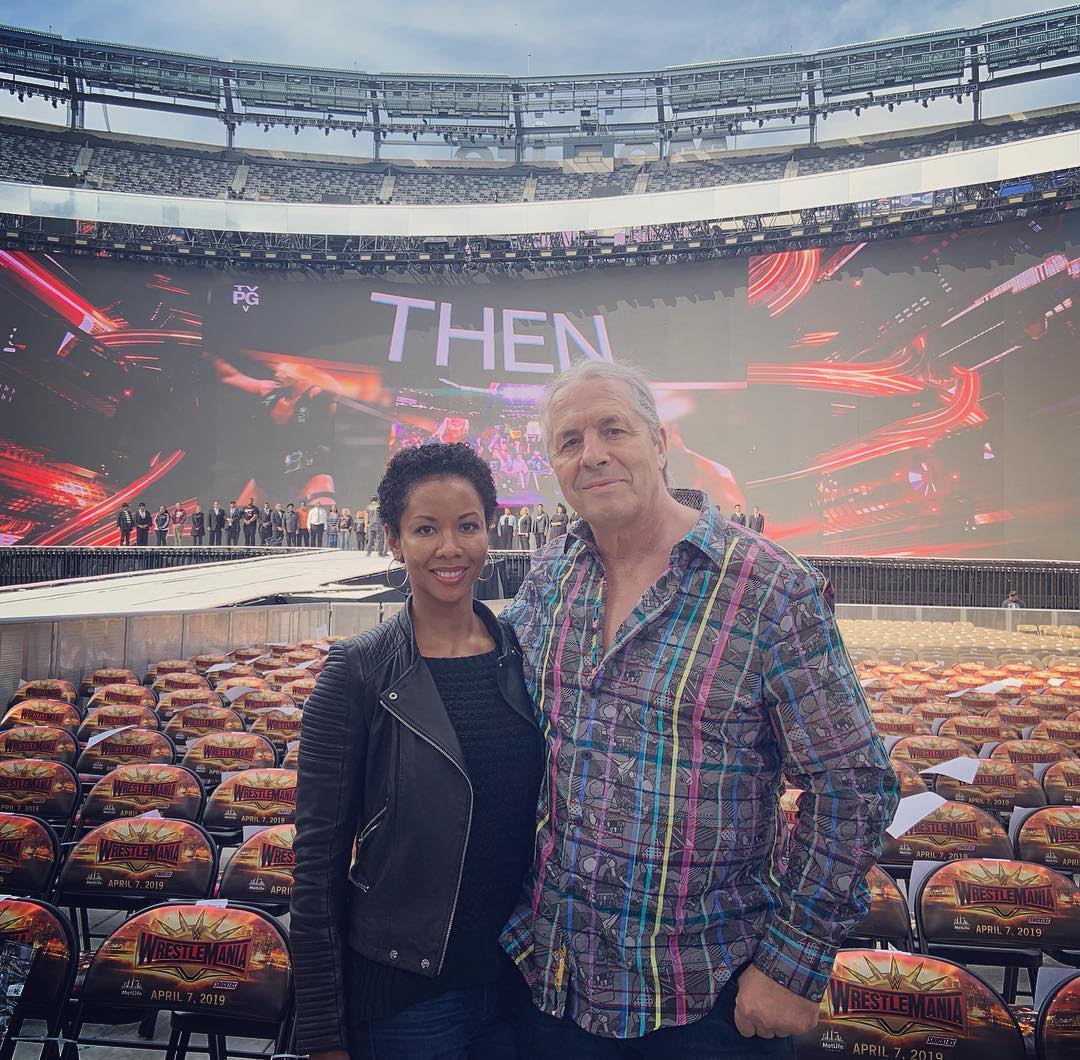 Stephanie and Bret "The Hitman" Hart
April 7, 2019 • New York, USA • Photo Courtesy of Stephanie Hart
Bret "The Hitman" Hart.
Without a doubt, one of my favorite personalities I had the privilege of meeting during my 20 years covering the world of sports.
He graced our Sports@11 set frequently. I still laugh remembering the times I would bring him on to scare the hell out of my co-host Mike Toth. Bret was always fun, had a great sense of humor, and was up for almost anything.
A true Pro.
So like many fans around the world, I was shocked to learn that WWE Hall of Famer, Bret "The Hitman" Hart, was tackled by a spectator during his speech honoring his late partner Jim "The Anvil" Neidhart as The Hart Foundation was inducted into the WWE Hall of Fame.
What occurred was something so bizarre that initially, even wrestling fans had a tough time believing what they had witnessed with their own eyes.
At Barclays Center in Brooklyn, back in the ring and on stage, accompanied by his niece Natalya, Neidhart's daughter and also a WWE wrestler, Bret was tackled by a disturbed and moronic imbecile.
At first glance of the viral footage, my thoughts were, "Come on!" Even the wrestling world wouldn't stoop to staging an event like this." It was when I saw Bret's reaction that I realized that this was indeed real.
Then it hit me. This could have been a much more dangerous and potentially disastrous situation than what had just occurred.
Bret wasn't hurt.
Shocked but not hurt.
Heave a sigh of relief.
Why in the world would someone even try such a stunt surrounded by some of the biggest, meanest, toughest guys imaginable, all in attendance?
It would be like the class clown walking into a biker bar and yelling "Pussies!" or trying to hold up the Mob with a water gun.
It didn't take long for his cohorts to spring into action, quickly attending to the Hitman.
In fact, video showed the assailant getting pummeled.
And he deserved it.
Think about it.
The guy could have had a knife, a box cutter or even a gun and we would be having a totally different conversation.
Wrestling is like a religion to its fan base, and like religion, you get your extreme fanatics. This time, one of them approached the sacred ground attacking the Messiah, and only by quick response, was a catastrophe avoided.
It's true.
Bret Hart is still the best there is, there ever was, and ever will be.
This historical night could have easily gone down with a tragic ending.
Congratulations on The Hart Foundation's induction Bret.
Become an insider fan
Subscribe to receive exclusive content and notifications